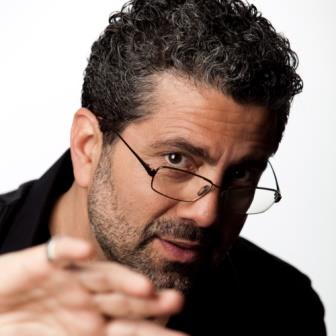 Director, Screenwriter, Author, Lecturer
Mr. Zarhin was born in Tiberias in 1961, where he also grew up. He is married to the film editor Einat Glazer Zarhin and a father of three. He is a graduate of the Department of Film and Television at Tel Aviv University. In 1996, he won the Ministry of Education's Award in Film and the Landau Prize for the Performing Arts in 2008, for his work in feature film. Mr. Zarhin has created some of Israel's greatest successes in film and literature in the past two decades. His films have won dozens of local and international awards.
Filmography:
• Passover Fever ("Leilasedeh") – Mr. Zarhin's first film (1995) won the award for Best Screenplay at the Montreal Film Festival, as well as other awards. It has been screened at over 200 international festivals, and commercially distributed in the US, Canada, France, Brazil, and other countries.
• Dangerous Acts ("Mesukenet") – (1998) Winner of seven Ophir Awards, including Best Director. Participated in many international film festivals.
• Bonjour Monsieur Shlomi ("Hakochavim shel Shlomi") – (2003) – won 21 awards at international film festivals, including in Russia, the US, Italy, Portugal, Spain, Poland, the Czech Republic, Germany, Sweden, and others, and commercially distributed in the US< France, Singapore, and other countries. It was also sold to Salma Hayek's production company for an American remake.
• Aviva My Love ("Aviva Ahuvati") – (2006) – Israel's biggest blockbuster in 2006. Winner of Best Screenplay at Shanghai International Film Festival in 2007, Best Screenplay at Chicago International Film Festival 2006, winner of Panavision – Audience Choice awards at the Israeli Festival in the US (Los Angeles, New York, Miami) in 2007, the Wolgin Award and Best Actress at the Jerusalem Festival in 2006, and six Ophir Awards (Best Film, Best Director, Best Screenplay, Editing, Best Actress, and Best Actress in a Supporting Role).
• The World is Funny ("Haolam Mazchik") – (2012) – Of the greatest success in Israel in 2012, winner of a record number of nominations for Ophir prizes, screened at dozens of international festivals (Chicago, Palm Springs, Hamburg and others).
• The Kind Words ("Hamilim Hatovot") (2015) – Achieved great local success, premiered globally at the Toronto International Film Festival and the Film festival in Busan, Korea, and has since been screened at dozens of international festivals. In 2016 it was commercially distributed in the US, France, Canada, Australia, New Zealand, and other countries.
Novels and Plays:
• Some Day ("Ad Sheyom Echad") – Mr. Zarhin's first novel was published by Keter Books in 2011, and is one of Israel's most successful novels in recent decades. It won the Platinum Award from the Israeli Publishers' Association for its sales achievements. It also won the 2012 Steimatzky Award and the 2013 Kugel Award. It has been published in English in the US and chosen and one of the top ten books of 2012 by three American magazines. In 2014 it was published in Turkey, and is soon to be published in Italy and other countries. In early 2015, to celebrate 100,000 copies sold, a special edition was published.
• The Leilasedeh Hagaddah – An Affair with a Screenplay – His second book was published by Keter in early 2016. This genre-bending book combines a screenplay, prose, and non-fiction.
• The Big Bang is Back – This play written by Mr. Zarhin won the "Raising the Curtain" Award in 2001.
Additional Screenwriting
Mr. Zarhin has also collaborated as a screenwriter in "Tel Aviv Stories" (1992), "Family Secrets" (1997), "Noodle" (2007), and other films. He has directed dozens of television commercials and series episodes, and consulted and edited on many screenplays (including the films "A Matter of Size", "Youth", "The Farewell Party", "Orange People", and the television series "The Place" and "History Class"). He has headed the drama department at the Kan Communications Corporation, has published short stories, articles and reviews in various publications, and more.
Mr. Zarhin has been teaching screenwriting and directing at the Sam Spiegel Film and Television School since its establishment over 25 years ago. Throughout the years he has mentored the writing and directing of dozens of graduating and "location" films. In the past he also taught at the Tel Aviv University Department of Film and Television, headed the Film Department at the High School of Arts in Jerusalem, and served as member on a national supervisory committee for the instruction of Film at the Ministry of Education and Culture.
He has also lectured in many other frameworks.