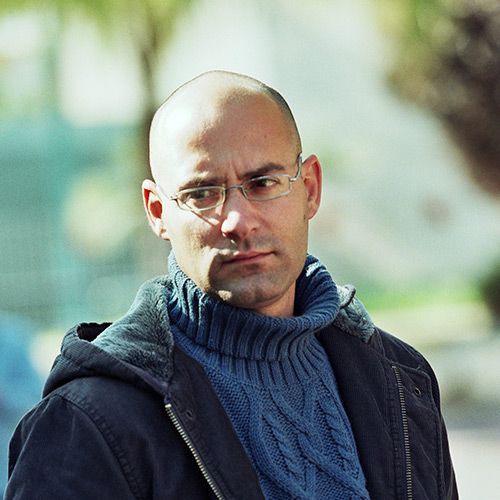 Director, Screenwriter, Script Editor
Mr. Sharon Maymon is a graduate of the Camera Obscura Film School.
Filmography (Director/Screenwriter):
Features
• 2014 – "A Farewell Party" (Mita Tova) – a full length feature film, written and directed by Tal Granit and Sharon Maymon. Produced by Pie Productions and 2Team Productions.
o Winner of the People's Choice Award and the Premio Brian at the Venice Film Festival
o Toronto Film Festival
o 1st Prize, Valladolid Festival and Ceminici
o Nominated in 14 categories at the Ophir Awards, winner of 4 prizes including Best Actor and Best Cinematography
o The script was chosen for the Berlin Festival's Talent Project Market and won the Highlite Pitch Award
o Has been sold for distribution in over 20 countries worldwide
• 2009 – "A Matter of Size" (Sipur Gadol) – 90 minute feature written by Sharon Maymon and Danny Cohen-Solel, directed by Sharon Maymon and Erez Tadmor. Based on an original idea by Sharon Maymon. The story of a group of Israeli Sumo wrestlers, the film was produced with the aid of the Israel Film Fund, as a French-Israeli-German collaborative production. Production: UCM Films. Currently Paramount is producing an American remake of the film.
o Opening film, 2009 Jerusalem Film Festival, screened open-air at Brekhat Ha Sultan.
o Official Choice, 2009 Tribeca Film Festival, Global Breakthrough
o Nominated for 13 Ophir Awards in 2009, Winner of three: Best Female Lead, Best Female Supporting Actress, and Artistic Design.
o Winner of Viewer's Choice Award, Karlovy Vary Festival 2009
o Winner of Best Comedy ant Traverse City Festival US
o Winner of Best Film, Sarlat Festival France
o Winner of Best Film, Festival de Alpe d'Huez, France
Short Films
• 2013 – Summer Vacation (Hofesh Gadol) – a 22 minute short film, written and directed by Tal Granit and Sharon Maymon.
o Shortlisted for the Short Film Category at the US Academy Awards
o Nominated for an Ophir Prize for Short Films, Israel Academy Awards
o Global premiere at Sundance Film Festival
o Winner of 1st prize at Australian Flickerfest
• 2011 – To Kill a Bumblebee (Laharog Dvora) – a 7 minute short film, written and directed by Tal Granit and Sharon Maymon.
o Global premiere at Locarno Festival, Winner of Leopard of Tomorrow Prize
o Winner of Best Short Film, Haifa Film Festival
o 1st Prize at Valladolid Festival
o 1st Prize at Aguilar De Campo Festival in Spain
o Honorary Mention at Berlin Interfilm Festival
• 2005 – Mortgage (Mashkanta) – 50 minute feature film, written and directed by Sharon Maymon and Tal Granit.
o Winner of 1st Prize at Jerusalem Festival, Best Film Drama. Screened on channel 2.
Filmography (Screenwriter)
"Shorts" – Screenwriter on comedy sketch show for Channel 2 Keshet. Produced by Gil Productions and starring Moni Moshonov and Keren Mor.
Filmography (Script Editor)
2014 – "Haven" (Ir Miklat), full length feature directed by Amikam Kovner, Green Productions.
2015 – "The Women's Balcony" (Yismach Hatani), feature written and directed by Shlomit Nechama and Emil Ben Shimon.