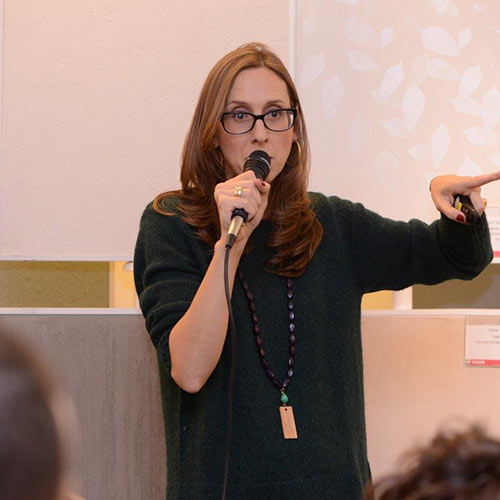 Narrator, Interior Designer, Presenter and Lecturer
Ronit is one of Israel's most well-known and bestselling voices.
For 18 years, she presented radio programs on Galey Zahal and Galgalatz and hosted various music and talk radio shows. Kfir was also head of the narration department. She hosted the magazine "EcoLife" on Radio 99FM, for which she won Best Talk Radio in 2006. Kfir also presented children's television shows on Channels 1 and 2, and for five years presented the local news edition of Gvanim.
She is one of the leading voiceover narrators in Israel. Her voice has led national TV and radio campaigns for Mega Bul, Mega Ba'Ir, Tami 4, Tide Laundry Detergent, Revlon, Careline, Castro, Johnson and Johnson, Loreal, and more.
Her voice also accompanies millions of Cellcom subscribers, and other IVR such as Leumi Call.
She hosts events and panels on various topics. Since 2000, Ronit has also been an interior designer and since 2010 has been writing a design blog on the online lifestyle magazine XNET, Yedioth Ahronot.
Ronit also gives lectures to freelance and independent businesswomen on conducting business, including marketing, price setting, leading processes with confidence and setting professional boundaries.