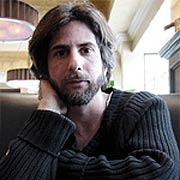 Nir Bergman, Director's Profile
Nir Bergman was born in Haifa, Israel in 1969. He graduated with honors from the Sam Spiegel Film and Television School in Jerusalem on June 1998.
His debut film, Broken Wings, was released in 2002, was a major success, won several international awards and was distributed by Sonny Classics in the US.
Since then, Bergman has written and directed several award winning feature films as well as successful TV series, among them he co wrote and directed In Treatment which was later adopted by HBO. Currently Bergman is one of Israel's leading film and TV writers–directors as well as a prominent film teacher in the Sam Spiegel Film and Television School.
Filmography (short list)
2020 "HERE WE ARE"
(Spiro Films) A feature film, Director.
9 Ophir (Israeli Oscars) nominations.
4 Awards:
• Best director (Nir Bergman)
• Best writer (Danna Isdissis)
• Best actor (Shai Avivi)
• Best supporting actor (Noam Imber)
FESTIVAL:
CANNES 2020 official selection
Jerusalem 2020 (Best actor best supporting actor best writer)
Valladolid film festival 2020 (Best actor)
Montpellier 2020 (Audiences award)
The film is accepted to more than 30 film festivals and will be distributed at more than 20 countries around the world including USA.
2019 "JUST FOR TODAY" (Endemol Shine Israel) TV series, writer & Director.
• Special Jury prize SERIS MANIA 2019
• Best international TV series ZURICH FILM FESTIVAL 2019
2016 SAVING NETA (UCM) A feature film, writer& Director
• 2016 Audience award Jerusalem film festival
2014 YONA (UCM) A feature film, writer& Director
• 2016 Best directing "Imaj" film festival Brussels
• 2016 Best Asian film Kerala film festival
2010 INTIMATE GRAMMAR (Libretto films) A feature film, writer& Director
• Grand prix award for best film, TOKYO 2010
• Best Film Award Jerusalem International Film Festival 2010
2007 WALK THE DOG (Libretto films) Mini-series, Director & co-writer
• Best mini series, Best director& Best Writer Israeli TV academy awards.
2005 IN TREATMENT (Inosan Productions)
TV Series – co- creator, writer & director (1st season)
• Won the Israeli TV academy award for best TV Drama
• In Treatment was adopted for American TV by HBO and won several Emmy's.
2002 BROKEN WINGS (Norma Productions) Debut film, Writer & Director
• 9 awards at the Israeli Film Academy Award, 2002
Inc best film, best script and Best Director.
• Best Writing and Directing Awards, The Jerusalem International Film Festival 2002
• Grand prix award for best film, TOKYO International film award 2002
• John Schlesinger award, Palm Springs International Film Festival
• Panorama Audience Award, C.I.C.A.E. Award & Prize of the Ecumenical Jury, BERLIN International Film Festival
• The film was chosen by Sony Classics for Domestic and worldwide distribution