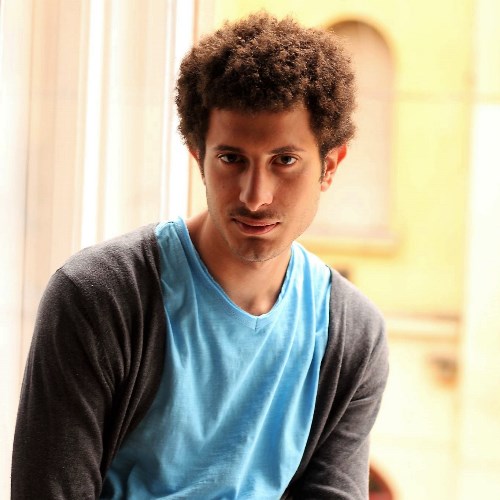 BIOGRAPHY:
Palestinian Director and Scriptwriter Nayef Hammoud was born on 13 August 1990 in Haifa. After completing his studies at the Sam Spiegel Film & TV School in Jerusalem, he moved to Jaffa and worked as a casting director, scriptwriter, cinematographer, and researcher.
Additionally, he has directed a number of music videos for prominent Palestinian artists.
Nayef's debut short film "Remember When We Kissed" screened in the Montreal Film Festival and won a special mention in the Haifa Film Festival, while his 2nd short film "The Day My Father Dies" won an award for Best Script.
Currently Nayef writes for the Buddy Fady YouTube Kids channel in Arabic, and develops a number of TV series.
DIRECTING AND WRITING
MeMeMe STUDIO, Creative Specialist and In-house Director Jan 2017 – Sep 2018
• Worked as a creative specialist and director in MeMeMe Studio's International Multi-Channel Network, producing content targeted at children for YouTube and other online platforms in Arabic; Directed and created over 200 videos in total
• Buddy Fady (YouTube channel): https://bit.ly/2M6uJsi
• Wardosa's Diary (YouTube channel): https://bit.ly/2LuguNd
• NatNat & Arnoob (YouTube channel): https://bit.ly/2MIWIyu
"The DAY MY FATHER DIES" (Short Film – Fiction), Director and Scriptwriter Dec 2017
• Won Best Script Award in a pitch competition, Accepted for screening at the Haifa Independent Film Festival, Festival des cinémas arabes, and the Tel Aviv International Student Film Festival
• Link: https://bit.ly/2OTfS8R (password required for viewing: TDMFD2017)
" 3 STEPS" )Music Video), Director and Cinematographer Feb 2017
• Directed and filmed a music video for the acclaimed Palestinian composer Faraj Suleiman
• Link: https://bit.ly/2uGWboy
"LET IT BE MORNING" (Feature Film), Script Advisor June 2016
• Advised on script for Israeli Director Eran Kolirin's feature film; Scheduled for release in 2019
• Director's IMDB profile: https://imdb.to/2PuuwAN
"TO BE AN ARAB" (Music Video), Director Aug 2015
• Directed a music video for singer and songwriter Jowan Safadi; Video received 133,000 views and press mentions in major Israeli media outlets (e.g., Haaretz, Channel 10 TV News)
• Link: https://bit.ly/2IT6CMT
"HIGH SCHOOL HACKATHON" (Promotional Video), Director and Editor July 2015
• Directed and edited promotional video for an Israeli hi-tech organization in Nazareth
• Link: https://bit.ly/2NAiiVf
"DAHMASH IN THE EYES OF ITS CHILDREN" (Promotional Video,( Director and Editor May 2015
• Short video was created as part of a citizen documentation tour arranged by the Haifa based 7amleh Center on 02.05.2015 in the village of Dahmash
• Link: https://bit.ly/2C9ljd4
"ADNAN & LINA" (Short Film – Drama), Scriptwriter and Co-Director Dec 2014
• Co-Directed chapter of "Footsteps in Jerusalem," a TV film for the Israeli Documentary Channel
• Film IMDB page: https://imdb.to/2yxPKqc
"REMEMBER WHEN WE KISSED" (Short Film – Drama), Director and Scriptwriter June 2013
• Film won special mention in the Haifa Film Festival; Link: https://bit.ly/2IUYICI
CURRENT PROJECTS
"BUDDY FADY" (Feature Film – Children), Director and Script Writer Oct 2018
• Arabic language film for children; Dori Media production; Currently in development process
"THE DREAMERS" (TV Series – Crime Comedy), Script Writer Aug 2018
• Israeli TV series by Maysaloun Hamoud ("In Between"), working as screenwriter of two episodes (#5 & #6); Scheduled for release in December 2019
"THE QUEEN OF JERUSALEM" (Mini TV series – Political Drama) Feb 2018
• Israeli Mini-TV Series by Daniel Paran ("Arab Labor"); Screenwriter for 6 episodes
• Scheduled for release in May 2019
CINEMATOGROPHY
"THE PIANIST FROM RAMALLAH"' (Short – Documentary), Second Camera Apr 2018
• A film by Avida Livny; Currently in production process
"147" (Short – Drama), Cinematographer Nov 2017
• A short film By Boaz Frankel; Winner of the Israeli Film Academy Award in 2018
"212" (Short – Drama), Cinematographer July 2017
• A short film By Boaz Frankel; Winner of Haifa International Film Festival 2016 and San Sebastian International Film Festival 2017; Film IMDB page: https://imdb.to/2yaHOM7
"NEXT YEAR IN JERUSALEM" (Documentary), Cinematographer Feb 2017
• Worked as a cinematographer and research for Marian Maryznski's documentary film; Film released as a PBS broadcast
• Link: https://bit.ly/2ITiaQf (password required for viewing: NYIJ2015)
"THIRST" (Short – Drama), Cinematographer May 2015
• Short film directed by Guy Sahaf; Winner of NYC Shorts Film Festival and TLV Film Festival
• Film IMDB page: https://imdb.to/2pNHcay
RESEARCH AND PRODUCTION
"THE GREENHOUSE ACADEMY" (TV Series), Casting Assistant 2015
• Netflix TV Series (based on Ha-Hamama by Gioria Chamizer); More details available
• Series IMDB page: https://www.imdb.com/title/tt6076336/
"DIRTY BUSINESS" (Short – Documentary), Freelance Researcher 2015
• Ad-hoc research for Vadim Dumesh's short documentary; Screened at 15 international festivals as well as Visions Du Reel Film Festival and the Jerusalem Film Festival
• Link: https://bit.ly/2yycPck (password required for viewing: Yael)
"UVDA" (TV Program – Investigative), Researcher 2014
• Series IMDB page: https://www.imdb.com/title/tt0498452/
"CHECKPOINT ROCK" (Musical Documentary), Production Assistant 2009
• Film IMBD page: https://www.imdb.com/title/tt1560615/
EDUCATION
Sam Spiegel Film & Television School, Jerusalem Nov 2011 – Nov 2016
• Filmmaking Program: 5 Year Track