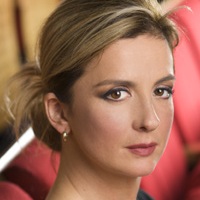 Actress
Ms. Barreto is a graduate of Bet Zvi School of Performing Arts (1990). She is the recipient of a grant from the America-Israel Cultural Foundation and the Zvi Levav Scholarship.
Productions:
TV: "Life Isn't Everything" (Reshet)
Habima Theater:
• Hippolyte
• The Child Is Dreaming
• P.S. Your Cat is Dead
• Hedda Gabbler
• The Goat, or Who is Silvia?
• Betrayal
• August, O'Sage County
• Lysistrata
Be'er Sheva Theater:
• Relatively Speaking
• A Winter Funeral
• Pal Joey
Han Theater:
• Anna Galaktia (as the art critic)
• Princess Yvonne (as the queen)
• Childhood memories (as Yvonne)
• An Eye for an Eye (as Mariana)
• The Seagull (as Masha)
• Like a Musician Playing
• Creeps (as Lily)
• A Word of Love (the wardrobe assistant)
• The Battle over the House (as Ziona)
• Illusion
Cameri Theater:
• Funeral (en route to Beijing)
• Milan (as Naomi)
Ms. Barreto has also participated in the film "Tel Aviv Stories", in the drama "Endangered Species", and in "Sea of Wheat" at the short Film Festival. She has won the title of Best Supporting Actress at the Theater Awards for her role in "The Battle over the House".
Ms. Barreto is currently on tour with productions she has initiated: "Oh, Elias, Elias" – an evening of sketches by Hanoch Levin, and "Working on our Relationship" – an evening of sketches written by Daniella London.