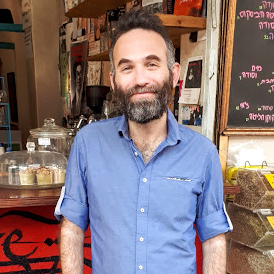 Born in Netanya, to a modern orthodox family. After mandatory military service as an armored corps, he was accepted into Tel Aviv University school of film and television to the screenwriting program. Assaf wrote to the TV series 'srugim', served as a screenwriter for the children's series "Asi and Tuvia", and as an editor and travel writer for "Metropolis" and "Eretz VeTeva" magazines. He was also the theater and art critic of "Motzash" – The cultural supplement of "Makor Rishon" newspaper since its inception.
Graduate of "Alma" College Fellows Program, and the "greenhouse"- the train Theater's Artists Incubator.
Created and performed at the Jerusalem puppet festival in the segment "Trip to Paris" in the show "Summer Rain" (2018) and in the short play "Not so Scary Story" (in collaboration with Jenny Meilihov) as part of the "Surprise" project (2021) .
At the beginning of 2021 his first novel "Concerning her whereabouts" ("Needarim Karim") was published by "Am Oved" publishing house .